Shares increase on the rise of heavy-weight stocks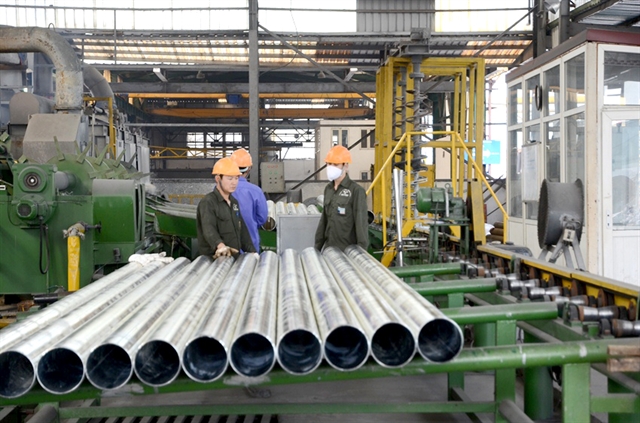 HÀ NỘI — Shares ended Friday on a positive note as a series of large-cap stocks climbed and spurred the market.
The benchmark VN-Index in the Hồ Chí Minh Stock Exchange gained 1.20 per cent to close the trading session at 961.26 points.
The southern index had gained 1.16 per cent to close Thursday at 949.90 points.
Liquidity rose sharply compared to the previous trading session with nearly 452.5 million shares traded on the southern bourse, worth VNĐ9.5 trillion (US$410 million).
Market breadth was positive with 249 gainers and 161 decliners.
The slightly narrowed fluctuation band, positive market breadth and increased liquidity indicated that the excited trading sentiment was likely to continue, said BIDV Securities Co.
The company said the VN-Index might fluctuate in the 960-980 point range in the next sessions.
Steel maker Hoà Phát Group was a notable gainer as it soared 4.4 per cent to hit an all-time peak of VNĐ30,900 per share, surpassing its historic peak recored on March 1, 2018, at VNĐ29,980 per share.
Other pillar stocks also outperformed such as Vingroup (VIC), rising 3.9 per cent, Vinhomes (VHM), increasing 3.6 per cent, Masan Group (MSN), climbing 1.2 per cent, Bảo Việt Holdings (BVH), up 2.2 per cent and Mobile World Group (MWG), up 1.4 per cent.
The VN30-Index, which tracks the performance of the 30 largest stocks by market capitalisation and liquidity on HoSE, increased 1.31 per cent to close Friday at 930.30 points.
In the VN-30 basket, 19 stocks gained ground and 10 decreased while one remained flat.
The cash flow continued to spread into the market, pushing up 18 out of 25 sector indices, including wholesale, insurance, real estate, retail, healthcare, mining, banking, agriculture, rubber production, food and beverage, seafood processing, construction material and logistics.
On the other hand, among decliners were securities and information and technology.
The minor HNX-Index on the Hà Nội Stock Exchange increased 0.60 per cent to end Friday at 141.70 points.
The northern market index had risen 1.16 per cent to close at 949.90 points on Thursday.
More than 65 billion shares were traded on the northern exchange, worth VNĐ732 billion.
Foreign investors net sold VNĐ232.02 billion on HOSE. They were net sellers on the HNX with the value of VNĐ2.26 billion. — VNS
Source: vietnamnews
CONTACT US
Lawyers in Da Nang:
99 Nguyen Huu Tho, Quan Hai Chau, Da Nang city
Lawyers in Hue:
336 Phan Chu Trinh, Hue City, Thua Thien Hue
Lawyers in Phu Quoc:
65 Hung Vuong, Duong Dong town, Phu Quoc island district
Lawyers in Quang Ngai:
359 Nguyen Du, Quang Ngai City, Quang Ngai Province.
Lawyers in Ha Noi
45C Tran Quoc Toan, Tran Hung Dạo, Hoang Kiem, Ha Noi
Website: www.fdvn.vn    www.fdvnlawfirm.vn  www.diendanngheluat.vn  www.tuvanphapluatdanang.com
Email: fdvnlawfirm@gmail.com    luatsulecao@gmail.com
Phone: 0935 643 666    –  0906 499 446
Fanpage LUẬT SƯ FDVN: https://www.facebook.com/fdvnlawfirm/
Legal Service For Expat:  https://www.facebook.com/fdvnlawfirmvietnam/
TỦ SÁCH NGHỀ LUẬT: https://www.facebook.com/SayMeNgheLuat/
DIỄN ĐÀN NGHỀ LUẬT: https://www.facebook.com/groups/saymengheluat/
---